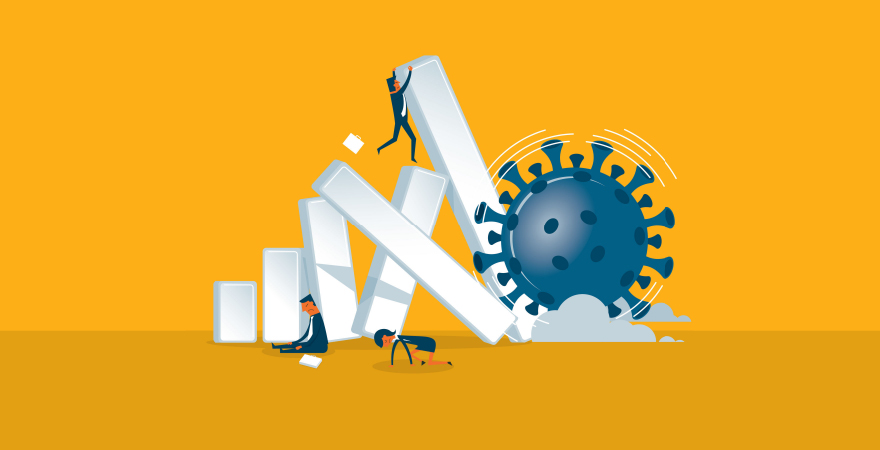 As we all are aware of, The Novel Coronavirus Pandemic has induced serious damage to people, companies and the economy as a whole. The sudden embark of crises has created difficulties for businesses to maintain business continuity and run operations. Moreover, the uncertainty gave no leverage to businesses to test their emergency plans if they had any.
In short, the pandemic has stricken hard and businesses are a finding a hard time to manage everything. In order to stay afloat, cater customer requests and make decent profits amid these crises, every company is restructuring its processes.
The above picture, clearly shows what effect coronavirus pandemic has left on business around the globe.
Now if you wondering how call center solutions can help then read ahead.
Earlier, organisations only preferred using Call center solutions to improve their current processes but now when the pandemic has hit hard, they find it as the only possible survival source.
How can a business make an effective strategy?
Every business needs to create a strong shield to prevent the risk to its operations. One has to restructure its previously used working structure and devise a contingency plan. They need to cut-down unnecessary and invest in better low cost yet effective techniques. In short, one should work intelligently with resources to maintain robust disaster management & plan to run smoother operation in the face of these uncertain times.
How can you do it to maintain business continuity?

Business process outsourcing is an ideal way to work with maximum trained resources. With its excellent solutions, businesses can boost their productivity to 100 %, cater all customer requests and run smoother operations. Boost sales, reduced cost, increased productivity, great customer satisfaction and much more is possible with BPO services by Girnar Care.
For business leaders who are on a lookout to seek the right direction on how to act now and ahead, we are here to offer you support. We will help you sail through the tough times and make your business more resilient to face the uncertainty. Learn how you can leverage smart pragmatic solutions offered by Call centers. So keep on reading:
Clearing backlogs with the right resources
Due to strict lockdown, resulting in various businesses forced to shut, employees laid off and customers were struggling to find solutions. After the lockdown lifted up, the main struggle for many is to organise the accumulated work that has been buildup during the lockdown. Many businesses are stuck wondering how shall they move ahead with so much work left in the middle of nowhere. Because of which, smooth business continuity seems to be a big hurdle. No matter which industry your business works for, Outsourcing helps you to set everything in place for smoother flow. BPO services offer your business cost-effective solutions and trained resources to help you clear your path. With our intelligent solutions and sensible approach, we help you adopt new ways of running the business in a timely and empathetic manner.
Restructure to maintain business continuity
Business process outsourcing allows you to use trained and professional resources/staff to achieve business goals. With these contemporary solutions, you need not spend budgets on hiring, training or managing various resources. We offer you quality resources at affordable costs so that you can free yourself from the hurdle in handling tedious staff requirements. You can also upscale or descale according to your business needs and requirements. In short, you pay only for what you use. If you worry about how you can view what our trained professionals are doing for you, then you don't need to do it anymore. We offer you a real-time dashboard that helps you track everything we do for you. Since our services work on a cloud, you can have access to the dashboard at any time anywhere.
Business continuity and customer satisfaction
Your customers need you always and with times being uncertain, they need you more. Don't worry, we are here for you. No matter how many platforms you are available on, we will keep everything in focus and reply to every customer query efficiently. No customer would like to return again to solve their issue. This decrease their trust in your brand. We truly understand what importance your customers hold for you and we cater them accordingly. From Phone calls, emails, social media inquires to any other source from where customers might contact you, we keep on eye on everything. Along with this, we also emphasize on building a robust and aggressive communication strategy which gives first-class resolutions to all your customers.
Modern technology
With improved technology and creative techniques, BPO offers you to achieve your business goals with greater efficiency. Technology like Virtual numbers, Missed call solutions, SMS Services etc allows you to communicate seamlessly with your customers. You need not spend on hefty software or hardware, rather allow you to work effortlessly via the cloud.
Final thoughts
So, this uncertain time is here to stay. Businesses need to fight for survival, make worthy profits, satisfy customer demands and make a difference. Business process outsourcing from Girnar Care will allow you to build a proactive, comprehensive and customer-oriented plan which is sustainable in the long run. Want to know more about our cloud call center solutions then call us now.
October 30, 2020
Categories: