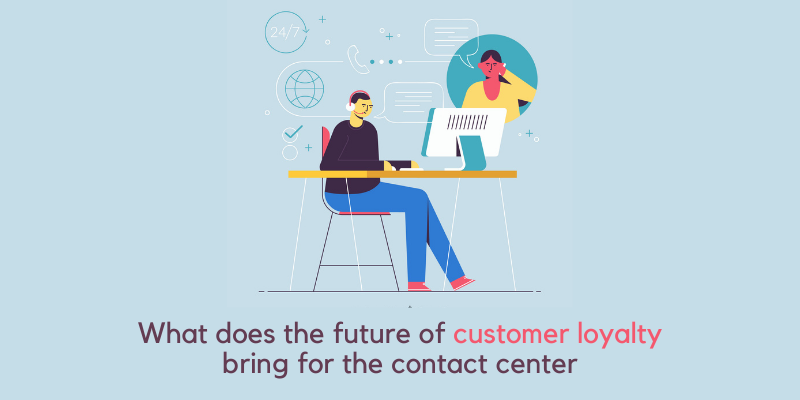 Contact center success depends on the virtues of the agent's productivity, effective management and policies, and customer loyalty. 

It would not be wrong to say that call center organisation and customer loyalty are close to the survival of both instincts.

Like body needs food to operate properly. Similarly, contact center organisations require customer loyalty for long-run, competitive survival, and growth.

As the contact center hovers to a more digital world, they are drawing a line to look at different methods to build and maintain customer loyalty.

And today's blog is all about contact centers and customer loyalty. Read to know about the future of customer loyalty for call center organisations.

Traditionally, end-users were loyal to a limited number of companies that they know and trusted. And those relationships with those entities could be counted on to be stable. The sources to drive loyalty could be judged easily.

But today's customers are much more educated and have changing priorities, tastes, and perceptions. It is hard for companies to still rely on those methods to convert an ideal customer into loyal customers.

If someone does….you are no-more-than to call yourself stupid…!

Merging the scenario with current affairs of matters, the pandemic has upended the equilibrium of stability by inventing new considerations for consumers when connecting with companies.

The new cores establishes since then as the rising of the work from home lifestyle and increasing hikes of digital shopping attributes combined with changing needs of customers, is at a peak of the changing dynamics in developing and maintaining loyalty.
Also Read: Industry Delineate: State of the Contact Center 2022
Easy interactions, quick resolution, and brand connection are core drivers of customer loyalty.

According to the research, the ability to solve customer issues on the first call or first resolution criteria is expediently helpful in creating customer loyalty. Easy and quick communication is also helpful in creating apprehend among customers. However, it is challenging to solve their issues on the first attempt, so the best bet is to train and provide practical knowledge for this to your agent.


The agents behind the process of (bringing productivity to the organisation) are already expected to serve as brand ambassadors. 
Contact centers and agents will become deliberate in creating loyal customers.

The anticipation and efforts of the agent that he or she puts to resolve the issues of the customers with tactics and patience are worth applause. As they are the first and novice to help customers and to drive a feeling of trust, can help an organisation to build a long-term relationship with customers who are happy and satisfied with the service offered.

Basically, the importance of customer service in generating customer loyalty puts the organisation in a box of profits. It helps organisations to transform contact centers into profit centers.


In conclusion, customer loyalty impacts contact centers in a big way – as the emergence is dependent on it. Additionally, the agents play an important role in gaining influence in customer loyalty which brings success to the organisation.

So, improving your call center solutions and methods is a must for every contact center if they want to see themselves as a trusted, reliable, and honest brand in the future by customers.

January 28, 2022
Categories: