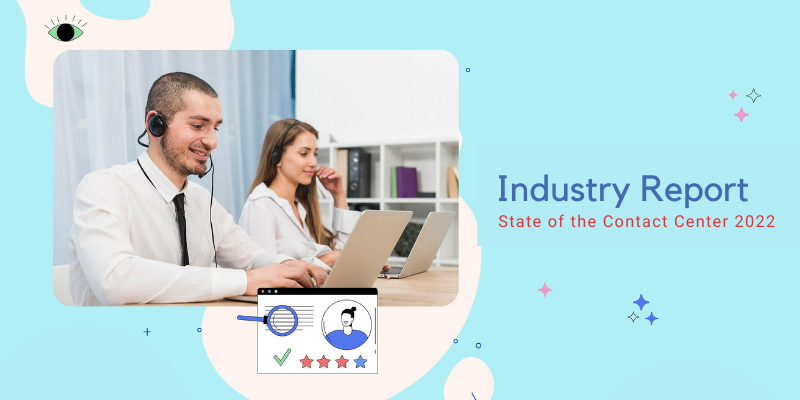 Aha! Welcome to the Industry report blog, today, we'll look into the spectrum of Contact Center for the year 2022.

Yeh! You may call it to contact center trends 2022 or something (you wish to say). Learn what this year brings for Contact center organisations and how they accommodate in 2022 with the following industrial delineates witnessed.
Tail To Know

Before the enterprises tried to grow and settle their image in the market, there was a pandemic that hit all of us scarcely and exists still, not in the dark (in the atmosphere) made us live while relying on vaccination and masks.

It has been three years now, and the world finds a way to fight such pandemics or even new ones. We have grown farther, using technologies, we regain our wisdom and enterprises back on the road to mark milestones.

In brief, Contact Center has experienced a tough time throughout the pandemic. There is a saying, everything happens for a reason.

The pandemic gave a new life to call center organisation in a more positive direction. The global contact center industry was valued at approximately $339 billion in 2020 and is expected to reach $496 billion by 2027.

The impact provides a new definition of success and opportunity to grow. With the adoption of technologies, the contact center manages to serve its purpose in a meaningful manner.

The cloud calling solutions, IVR system, and AI-receptionist hailed the call center workforce in a great way. These have played a heroic role in providing excellent customer services and taking great niche care of stakeholders.

Here are quick highlights of predictions and suggestions collected from industry leaders and CX experts about their predictions for what contact center professionals can expect this year.
The Deceased Pandemic Is No Longer an Excuse for Poor Customer Service

The Covid-19 seduction on the planet had made millions of people think about salvation and with many deaths taken, it changed our lives entirely.

This is why a strong percentage of dropdowns have been seen in customer service by many companies. However, actually, clients were never precisely quiet when it came to client support. That's why advanced solutions like virtual IVR have become the central focus of human touch and are a great way to offer customers flexibility and attention.

The pandemic, however, urged some businesses to focus on profit even the expenses of customer services not valued in surplus. And some iconic brands like Amazon and Apple stayed on top of the chart for providing great customer services.
Also Read: Tips to Enhance Customer Experience During Lockdown
Agent Engagement and Effort is Vital to Customer Experience

The Covid-19 fear is on everyone's head. As it was taking death impatiently, the fear was absolute to the head.

Covid was hard on call centers and agents. Everyone is revolving with the same fear and problems – fear of COVID-19 safety, loss of income in the family, illness or death of family members – and empathise with the customers on a call.

Yes, it is a tough job to energise agents to perform and achieve productivity for the organisation amid a pandemic. But, as humans are the bread of intelligence – the resurgence was standard to achieve, and most of the call center agents achieved it with continuous agent engagement practices, bringing gamification in the module, and enhancing their skills on technologies.

"Make sure you take care of your agents and give them the tools they need to not only be effective and productive but also engaged and empowered." – Blair Pleasant, President & Principal Analyst at COMMfusion
Also Read: Steps to Help Reduce Agent Attrition in Call Centers
Digital Transformation Will Continue to be Dominant in 2022

Digitalisation and technological transformation is moving parallelly since the pandemic began. Call center enterprises in 2021 had to make crucial investments in their technology to monitor the entire workforce including IT operations and analytics, data backup, and security amongst others.
The fact is that in the modern-day age, customers continue to purchase online, either through browsers or smartphones. That pattern will probably go on into 2022, requiring the requirement for reliable omnichannel support.

And most companies are investing in omnichannel support and efficient self-service call center solutions for better and remarkable customer satisfaction.

Have you invested in Omnichannel support for your business? Well, it's time because it is worth it. Learn how Girnar's call center solutions are rapidly helping Indian organisations to achieve profits. 

January 17, 2022
Categories: