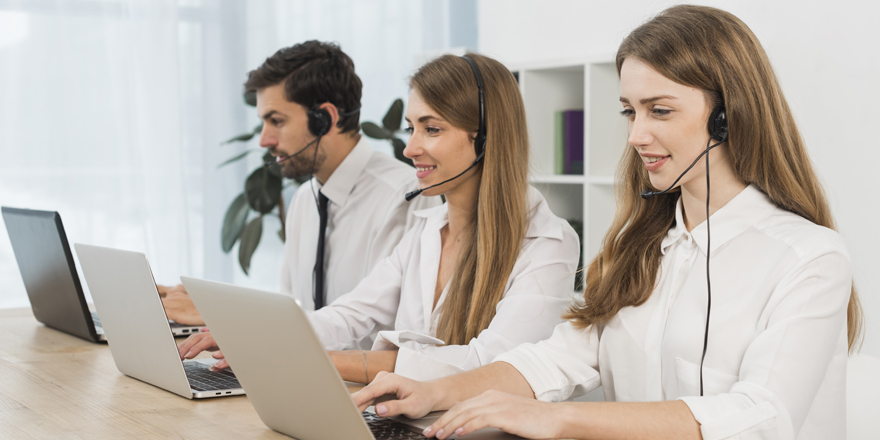 The Impact of the Coronavirus pandemic has been seen worldwide. It has hampered normal operations and is leaving its major impact on all potential business all across the globe. With the possibility of disruption in the upcoming weeks, the government along with all other companies are taking important measures hand in hand to stop the spread and tackle the situation at the earliest. In such uncertain times, many citizens are probably looking for help, solutions, answers to their issues and their first instinct will presumably be to search the internet, make calls to customer care companies and find answers. Almost all businesses/enterprises considering all industries are handling an inflated amount of call requests for inquiries from the concerned customer.
In order to sustain business operations, enterprises are considering all the present and future upcoming challenges and are preparing ahead for the likelihood of Introducing newer technology to stay connected in the midst of such crises like Cloud technology for better scalability and connectivity & introducing IVR Cloud telephony solutions in order to not make customers wait and rather get their answers immediately. of this pandemic as a disaster recovery plan similar to what they would design for natural calamities.
Customer contact centres of all industries are considered to have the most leading turnover at all times ranging almost between 30-45% of the entire economy turnover have their own share of disturbances in this point of time. The normal average call centre agent life is approximately not more than three years, but if the economy faces such turndown pandemic situations, call centre burnout is a common phenomenon. With high expectations and increased call volumes, agents often lose it and often result in high burnouts.
The characteristic that depicts flags of the burnout ratio is commonly considered to be exhaustion, unsatisfactory work execution, and ever-growing doubts and distrust for the organisation. In order to control these situations, call centre companies shall lend their employees a helping hand by providing them with extra support, both human and technologically. All agents shall be calm, confident, content, and healthy, qualities that seem a little difficult to have when stressed because of being stuck in the midst of a crisis.
As a contact centre company, below are some important steps that one company shall consider to tackle situations in a much easier and lighter way:
1. Automate processes:
But remember it's not the time to experiment with technology. Use automation techniques to rather save time and work in an easier way out.
2. Supporting your employees:
Supporting your employees and training them to do their jobs efficiently is how companies can reduce burnout rates. Employee engagement activities, promoting safety parameters for employees and their families, encouraging learning during rough times. Work will be consuming & emotionally draining most of the time and also become overwhelming over the period of time which will reduce support quality. Reduce the stress built because of the pandemic situation and initiate communication with your staff. Staff Rotation across processes & recognising their efforts and work will ease the situation.
3. Incentivize Call Center Agents:
An employee gives hours each day conversing with customers who at times might upset them, or probably be unnecessarily demanding, and rude. This will surely wear the agent down in most of cases. Companies during this time shall introduce schemes which contribute to incentivize their employees' bases on their performance. Recognizing performance and performers during these tough times and rewarding them in-kind or monetary terms so that your staff values you, shows more trust in the company laws & comes out stronger than ever. Reinforce the culture during harder times to reap fruitful benefits.
4. Revamp and Ramp-up:
Flexible & Adjustable shift arrangements to work in accordance with the increased call volumes, hiring of additional work-at-home agents, using empty offices or meeting spaces to support physical distancing are some of the practices that are easily adaptable and can be used by the companies in emergency situations like COVID-19.
With trust, invest in your employees and help them with proper techniques and strategies to fight strongly during crises. Overcome and drastically reduce the burnout ratio and ensure productive & profitable outcomes.

April 22, 2020
Categories: