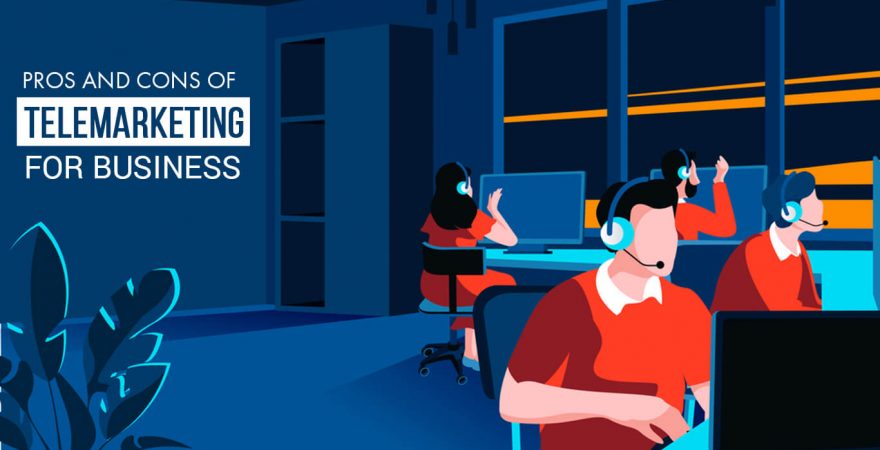 Telemarketing is probably the most widely used term in the marketing industry and I am pretty sure you must have heard of it at least once in a while.
As the name suggests, telemarketing refers to reaching out to prospects in order to sell your products and services.
But as easy as it sounds, telemarketing is not a piece of cake. It requires a unique skillset to persuade people into buying your products and if your agents lack that skill, not only your sales will suffer but you'll risk losing your potential customers.
To get some further clarity over this topic, let's start by discussing the pros and cons of telemarketing for your business.
Pros of Telemarketing for Business

1. cost-effective
This is probably the biggest advantage of telemarketing. It can save your business a lot of money as compared to hiring an outside workforce. As it allows you to directly speak to prospects, you can use your convincing skills to sell your products.
While some customers can't make the purchase right away, you can still use them as leads and contact them in the future regarding the same.
2. The interaction is more personalised 
The best part about telemarketing is creating a personal touch.
You can interact with your customers and get to know about their preferences, needs, interests and what they look for in a product which further allows you to serve them in a better way.
Also, unlike text messages and emails, using telemarketing will land a quicker customer response.
3. Lets you expand your sales territory 
Telemarketing gives you the freedom to connect with clients from all over the world. That means you can go beyond any geographical boundary to take your services to the global market.
This way the brand value of your product will rise and you'll be able to generate new leads. Like every coin has two sides, telemarketing also comes with its own set of disadvantages which you must know.
Cons of Telemarketing For Business 

1. It is considered interfering 
With telemarketing, you can get in touch with your customers on a personal level but most often businesses are not able to leverage telemarketing to its full potential.
What's the reason behind this?
It's because of the fact that telemarketing calls are often considered as interfering and disturbing by most of the customers.
Nowadays, people are so involved in their daily routine that they don't have the time and energy to listen to someone telling them about their products. This is the reason why customers get irritated by telemarketing calls.
2. Inability to contact customers
People get tired of getting spam calls from unknown numbers. Most of them register their number in the Do not call list to get rid of the spammers.
This can be a good thing for them but can affect your business negatively as your agents won't be able to reach out to the potential customers who might be interested in your products.
3. Can be costly
Though telemarketing is economical, there are some aspects related to it that may be expensive. Let's take customer lists as an example. Most of the customers mentioned in the list may not even be interested in buying your products and you may spend many hours contacting them but still not get a response.
Also, training the staff members for making telemarketing calls can be a costly affair.
Also Read: Advantages of Outbound Call Center
Conclusion
Now that you have got a clear picture of the pros and cons of telemarketing for your business, you can make wise use of the benefits it has to offer and work your way to minimize the disadvantages.