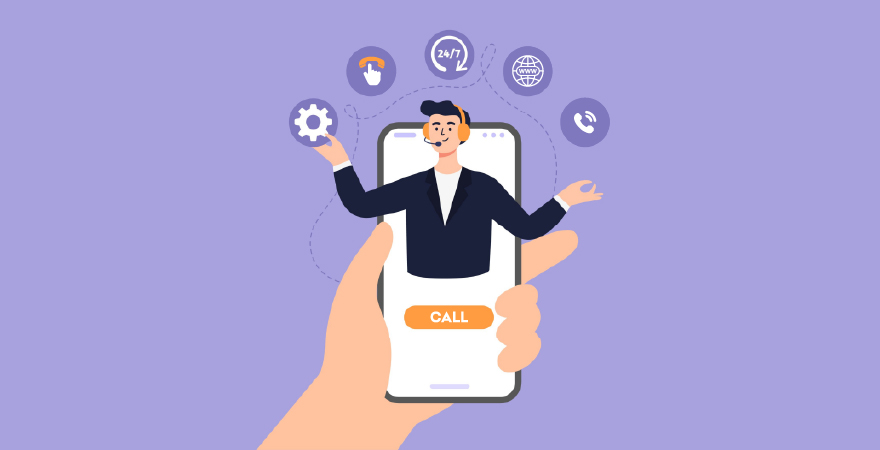 Due to the uncertainty created by the Novel Coronavirus, businesses are considering new-aged technology for business continuity. With the embark of remote working, businesses are facing a high number of problems. These problems need smart solutions which are flexible and help in smoother functioning. Because of COVID 19, cloud-based call center solutions are gaining immense popularity for all the help they provide to ease operations. Whether you are a small enterprise or an established one, you can now invest in these smart cloud-based solutions and outgrow your business. These cloud-based contact center solutions have a number of benefits which one cannot ignore. But first things first, let's understand what are these call center solutions everyone is talking about.
Understanding cloud-based call center solutions.
Now your business can carry on operations and communication in a much simpler yet advanced way. Want to know how? Keep reading.
Cloud-based call center solutions are advanced and modern call center solutions. These smart cloud-based solutions help businesses to carry on with their usual processes but with added features. Defining it In simpler terms as "a technology hosted over an internet server which handles all your inbound and outbound communication". With the ever-evolving technology and new modernised techniques, these call center solutions help deliver a state of art service to your customers. Not only customers but your employee/agents are able to boost your productivity with these smart solution over time. These solutions are automated, fast, internet savvy, advanced and flexible. These solutions provide assistance to all industries and businesses, thus assist to deliver a seamless experience.
Why choose cloud-based solutions?
Installation: You don't need to spend your budgets to install any external hardware/software for these solutions. Nor you need any external assistance to maintain them. They are easy to use and flexible. Just integrate it with your CRM and that's it. The software keeps on updating itself and stays current every time. It delivers you continuously with advanced features and capabilities which help your business outgrow itself.
Operational Costs: Leveraging these cloud solutions without installing any external hardware/software is now easy. Businesses can save their budgets and spend on other things. These solutions help to predict costs and reduce capital overlay. Therefore enterprises can outline more accurate budgeting beforehand with incurring expenses on installing or maintaining software. The main cost incurred is of having a stable internet connection.
Easy Management: Since there is no installation and maintenance, there is no dependency on IT with increased flexibility and agility to perform better.
Flexible Business Operations: Since everything is on cloud, there is adeed flexibility for your employee. Work from home or remote locations is now easy with advanced technology to make tasks smoother.
Easy Scalabiltiy: Expand as your business grows and pay only for what you use.
Wait no more and evolve your business with cloud-based call center solutions. Don't lose out great opportunities. Most importantly, choose out great call center solutions and the right strategies to achieve your goals. To sum up, great things come unknowingly with time. Make your move to cloud with Girnar Care call center solutions.
October 16, 2020
Categories: