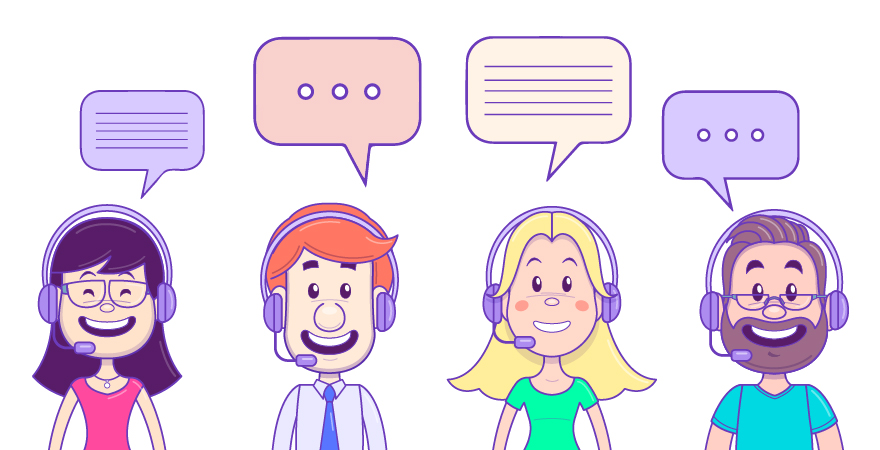 Times have changed and unlike the past years, technology is rapidly evolving and providing newer ways to work. The customers before didn't lay their hands on various channels to contact their service providers. But the contemporary customer is well versed with ways he can get his answers without waiting in long phone queues.
He wants to interact in the best possible way and the most comfortable one too. Businesses, on the other hand, have understood the present situation wisely. With a motive to provide first-hand resolutions for a seamless experience, businesses are doing it all. Investing in an Omnichannel call center, businesses are accommodating themselves to serve customers.
This blog will explain how such a setting can help you too if you are unable to meet the present demand of your customers.
Defining an Omnichannel Call Center?
An omnichannel call center is a setting curated to transform how businesses communicate. This setting aims to provide an excellent consumer experience to all its customers. It provides an experience that lures the customer and keeps them coming back. Plus it uses the cloud, which saves time, efforts, budget and is highly secured.
Why?
Because the customer gets the most satisfaction from each transaction.
What's so special about it? A live operator or a list of self-service choices is available to the customers. With the help of which, they can get all their queries solved in no time. Such communication channels deliver seamless services to elevate one's experience and journey.
Technologies used
Artificial Intelligence (AI), Chatbots, machine learning and natural language are the ones that contact centers are turning to. With their use, contact centers are decreasing expenses, improving efficiency and heightening customer experience.
An omnichannel service center setting uses Artificial intelligence technology to transform the communication process between both parties. Moreover, it also eases out the workload of an employee by answering all the monotonous queries by itself or presenting pre-defined solutions.
In other words, the employee is able to concentrate more on the complex queries that require human intervention.
What Makes a Good Omnichannel Customer Experience?
Providing your customers with a unified experience brings greater customer satisfaction. If we break Omnichannel into two parts, then it comprises OMNI and Channel. By OMNI, we mean Unified. It an all in one channel which is way different from the traditional ones. A Uniform platform that your modern customers can use to interact and communicate. In conclusion, an "OMNICHANNEL" platform is a great way to serve your customers easily without any hassle.
When used correctly with the right execution, this platform can effectively strengthen customer relations. Moreover, it will also increase customer loyalty as the customers always get immediate solutions.
Who wouldn't like to stay connected with a brand that listens to its customers?
How does an Omnichannel call center setting help?
Unified connected platform
Girnar Care offers a unique unified platform to all its clients. It offers a dashboard that is integrated with the company's CRM. This dashboard once connected displays all the information of every source and channel on one single screen.
Customer queries coming in from the emails or any particular social media channel, everything will get displayed on one single screen. This helps agents to check every minute detail of the customer and then respond to them correctly. This saves navigation time and helps your agents to address each issue with great attention.
Smart Routing
Unlike the traditional system, customers need not wait longer ques to get to the right department and the right personnel. With Smart routing and self-help options that IVR provides, customer calls get routed immediately with just a few inputs. With an omnichannel setting, your customers wouldn't get frustrated but rather will be offered immediate help and attention.
Live chat with Omnichannel call center
Your customers need not call and wait till they get a solution. AI-powered chatbots are a great way to answer those monotonous queries that customers come for. They provide immediate solutions to your customers with their smart answers. Moreover, they try and solve the queries all by themselves so that there is a minimal chance of human intervention.
Conclusion
With an Omnichannel call center, business no matter what size can quickly work in accordance with the customer demands. If your customers are happy, then ultimately your business goes well. To learn more about how such a setting can be used for your business or how Girnar Care Inbound call center solution can help you, then call us now.

December 8, 2020
Categories: