When your organisation deals with a large number of customers, the need for efficient inbound services becomes important. 

Inbound call center agents essentially answer customer service queries as well as transactions.

It is important to monitor and analyse the agent's performance. This is where a call scoring system comes into the picture.
What is Call Scoring?

Call scoring is similar to the mathematical scale, and you may call it a tool that is used to evaluate your employees while they are on the phone with customers.

In other words, it is a way to gauge top-tier customer service and improve the performance of your agents over time.

Call Center Call scoring means scores given to the conversation occur between the customer and the relevant agent. The score could be asked to be given by the customer while on the conversation or after. 

The purpose of call scoring is to bring the quality of their calls in line with your company's goals.

Still difficult to grasp? Let's take an example.

Suppose you had a treatment with your doctor. One from the team of healthcare management calls you and asks for feedback. You have been asked to rate the doctor's service from 0 to 5 where '0' is the lowest and '5' is the highest. The score you give to them is called call scoring.

It could be an automated call rating system or real-time call scoring.

The input is further being stored as feedback and the agent's performance is judged on that basis. If the customer has rated the conversation five stars, it shows that the customer is happy and satisfied with the service as well as with the agent.

There are several methods for call scoring. Here are some of them:

Real-time call monitoring
Analyzing call records
Automated call rating systems
The possibility of the call scoring method usually depends on the number of agents being monitored. For large call scoring agent performance evaluation, the automated call rating system is preferred.
Top-Notch Practices for Call Center Call Scoring

Now that you're aware of the call scoring methods, it's time to use them.

See not all business functions are equal, so you need to choose appropriate call scoring methods. For this, you need to figure out the optimum monitoring criteria.

Call scoring criteria help ensure your agents are evaluated without any wrong consent. This also enables you to judge one agent's traits with another and help identify those that could benefit from extra practices or at least save you from preparing a development program. 

Do you know? You can use the Key Performance Index (KPIs) and metrics for agent performance. 
Take time and review these top practices on how to score your call center agents and improve your performance: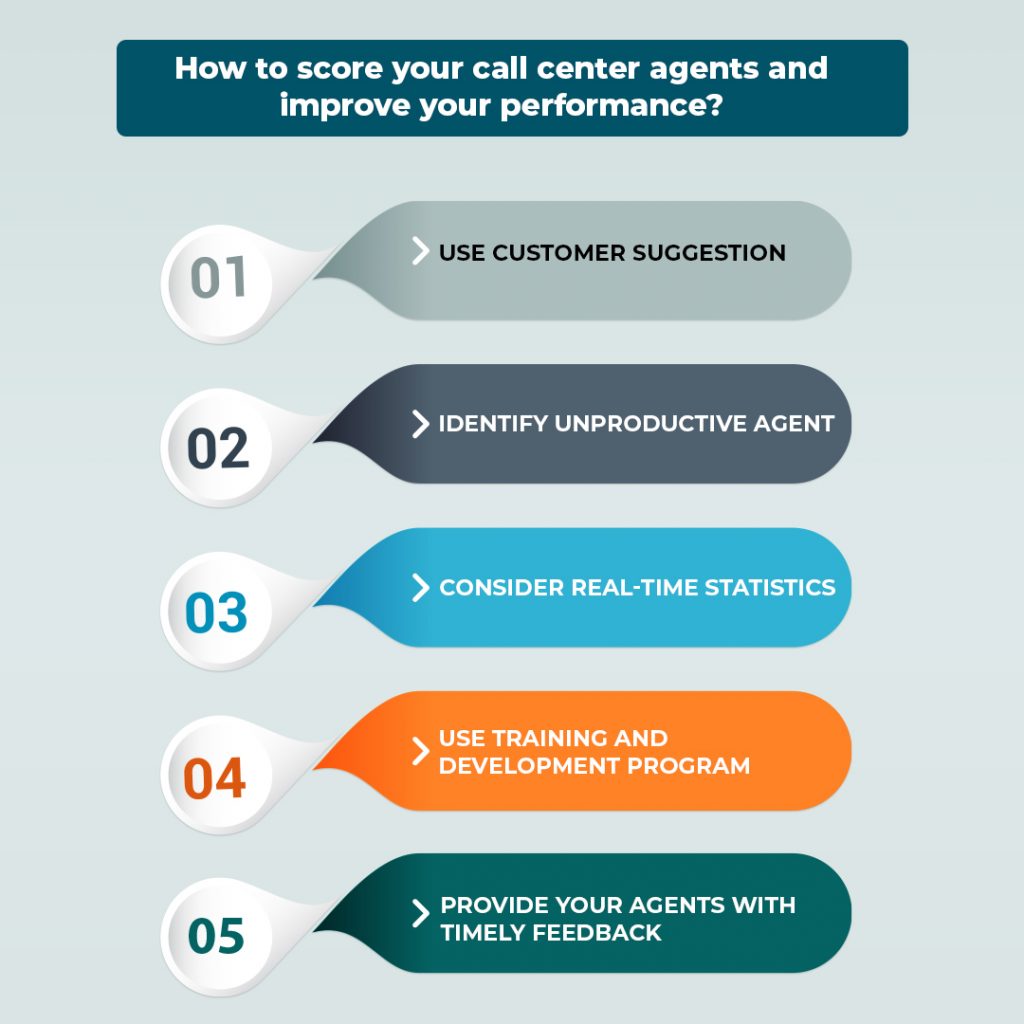 No.1 – Use Customer Suggestion

Suggestions give a scope of improvement. By understanding what your customer tries to say via their reviews or feedback collection, you can actually bring better agent performance.

After every call, make a habit to reach out to customers and ask them to provide feedback in some form.
No.2 – Identify Unproductive Agent

In the corporate world, there is no value and space for unproductivity. An unproductive agent could be a cause for the upbringing of inefficiency, immorality, and unproductivity in your whole organisation.

Try to screen the struggling agents either weekly or monthly. It gives you where to focus your improvement efforts.
No.3 – Consider Real-Time Statistics

Real-time data is the fuel of modern call center success. Real-time monitoring provides various benefits such as making agents live easier, improving productivity, reducing agent attrition, improving customer satisfaction, and more. 

Using real-time statistics, agent progress can be tracked easily. It can also motivate them to improve the quality of their service and come out as productive agents.
No.4 – Use Training and Development Program

The call center can improve call center representatives' performance by providing them with continuous training. When your agents are well-trained they can handle most of the situation by themselves.

Consistent training helps your agents to attain their skills and make use of their abilities.

No.5 – Provide your Agents with Timely Feedback

Applauding agents for their good results is a great way to improve agent performance. They feel like motivated agents and see themselves as a productive employee for the organisation.

When agents do something right, it needs to be shared. Therefore, timely feedback can be of great benefit for agents as well as a call center.
Also Read: How to Handle Stressed and Angry Customers
The Best Way To Use Call Scoring in Call Center

Here are some tips on how to make the best use of call scoring:

#1 Anticipate and react to your callers' needs

A good agent always works on the notion to satisfy the callers' needs. Call scoring can help in anticipating and providing a better solution to callers' requirements.

Together with your agents you can review calls systematically, and look into the improvement area to improve these conversations.
#2. Encourage healthy competition between your agents

Call scoring is also seen as a tool to promote healthy competition between your agents. Since each agent handles multiple calls in a day, the competition sets automatically.

To measure the competition scale, call scoring is used and through the scores, each agent's performance can be collected.
Final Words

This guide focuses on how to use call scoring to boost agent performance. I hope you gain a better understanding and insights to resolve your agent performance with this blog. For more information like this, please do visit Girnar Care Blog. 

November 13, 2021
Categories: