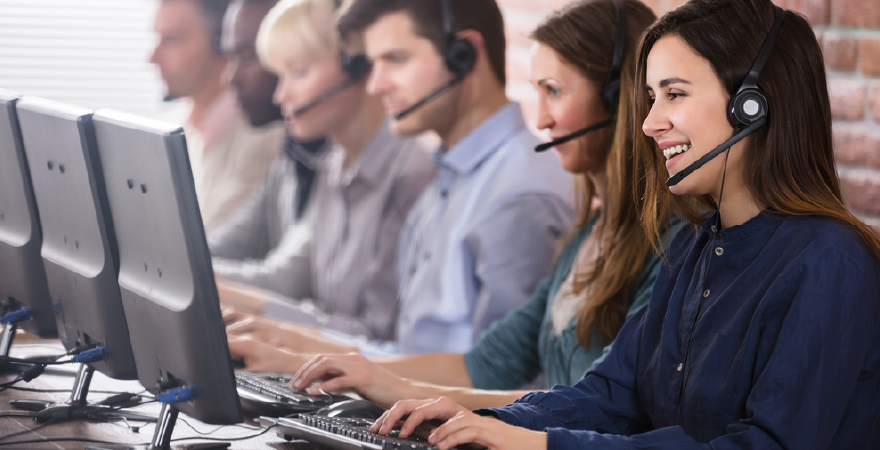 COVID 19 Pandemic has constantly been changing the world dynamics in a very uncertain way. Result of which is an economic decline for many industries witnessed across the world market. Some businesses have felt restraints while working and are struggling over to survive. On the other hand, some have certainly felt more strain in terms of high demand. One such industry is the call center industry which is receiving a higher influx of queries from callers across businesses. With very few resources left to work with, every call center is striving hard to answer enquiries of distressed, frustrated and desperate customers.
Callers are looking for relief for their mental as well as their health issues. Considering the laws of social distancing, call centers are taking various actions. Remote working and deploying appropriate technology, they are doing it all.
Above all, Call Centers are aiming to keep customers stress free and engaged.
These situations are indeed hard to manage but then it stands crucial for each business to take care of its customers. Customer experience has taken a new toll in itself. Along with, high uncertainty, COVID19 has highlighted areas of improvement as well.
Devising strategies for your Call Center
Let's look at some and understand what Customers are looking out for. Businesses leaders take note!
Planning your customer call center operations
With an Agile plan, Business professionals can compose an appropriate way of working. Understanding the current situation, observing demand, predicting upcoming changes and formulating strategy is a way out. Combining your observations with a flexible strategy will help call centers work diligently. Moreover, solving customer concerns will not be troublesome. Understanding customer demographics and behaviour patterns will help call centers to plan a fruitful strategy. On the other hand, with a proper strategy to work with, your agents also wouldn't feel the heat to work under immense pressure. Resources are valuable during such uncertainty and businesses should take care of them too.
Providing Clear Communication
It highly stresses the customer when they have to repeatedly come again and again to seek for solutions. This creates a bad image for the brand as well. Call Center Agents should make sure that customers should be provided with clear and first-hand solutions so that they don't get irritated. In other words, Clear communication helps to boost a lasting impression while keeping your customers loyal towards your brand.
Showing Empathy to your customer
Connecting emotionally and understanding customer concerns is what all call centers should aim for. Your customers are trapped at their homes with almost no answers to the current situations. Emotionally, mentally, physically or financially shaken with the pandemic, they need urgent help. Your role is to provide them with a sense of relief and offer them reliable solutions. Call center agents should portray their company visions during their interactions with the customers. Most importantly, agents should form a trust bond between them and the customers to boost joy and lower down stress.
This will consequently add up to better customer service experience which would last after the pandemic as well.
Boost Online Interactions
Formulating online communities where multiple people can interact and share their thoughts can benefit in many ways. Due to social distancing laws, communication is confined in boundaries. Active discussions on the brand page will widen customer horizons and change thinking patterns as well. These discussions can often solve customer queries and issues without the need for agents. As people from everywhere will discuss their issue, customers themselves can find answers. Moreover, this will also boost customer interaction and keep them positively engaged.

Move Online
With Customers stuck at home, the easiest source for them to contact you is via phonecalls. Ascertaining new channels and promoting them will help manage spiked call volume.
Agents should encourage customers to express their issues online via emails, social media etc. Moreover, sharing content and share it across channels for customers will keep them engaged. For Example, Gyms which haven't opened should promote content like free workout sessions and other sources to reduce stress levels.
Automate Processes
New technology can change how call centers and businesses work. Deploying various cloud telephony solutions like IVR, Missed Call, Email, Chatbots etc can make a huge difference while communicating with your customers. It can ease out customer interactions and will benefit both customers as well as businesses.
Customer Call Center to the rescue
These time are uncertain and are here to stay. Businesses can instead use this time as an opportunity to maintain lasting relationships with their customers. Good customer experience will provide you, faithful customers and great brand ambassadors. Emphasizing on your customer problems and showing them empathy will definitely help you to outgrow the impact of these crises. Take care of your customers and likewise, they will stay with you.

October 9, 2020
Categories: