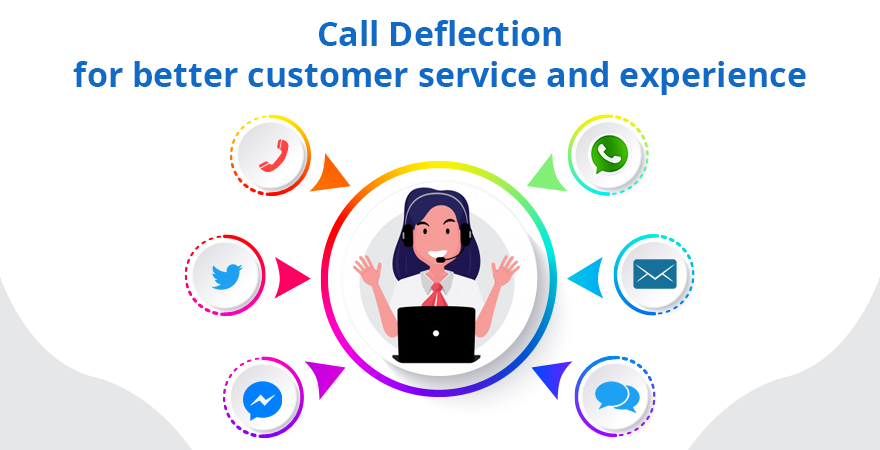 Only a few years ago, business entrepreneurs didn't believe much in the concept of great customer service & experience. All they considered it, was an unnecessary and avoidable expense. But technology and customers have evolved and so the concept of customer service seems inescapable. Today, businesses and enterprises work in accordance to please the customer in every way possible. The current coronavirus pandemic has hit every business leading to dissatisfied customer service.
But yet again with our advanced technologies, we have a way out. Call Deflection is one such exceptional technique that keeps everything in alignment to enhance the customer's journey. So a win-win for both business entrepreneurs and their target audience.
So let's get in the details.
Understanding Call Deflection
Every customer has his own way of finding solutions to his problems. A customer can either reach out for support via the customer service helpline or find answers through various other mediums. Other mediums involve sending emails, Live-chats, Using Chatbots or Voice bots, Social media or messaging.
Not every customer prefers the phone call mode of communication. Though the phone call medium seems the fastest every customer has his own set of situations and preferences. It completely depends upon the customer to choose his communication medium according to his needs.
But when a customer calls, he might face a zillion problems. With phone calls, the common issues are long hold time, calls transfers or dissatisfying answers. All these reasons can result in a much decline in customer service and experience.
Intelligent Call Deflection to the rescue
The Intelligent Call Deflection technique is often used to tackle similar situations by customer service departments. With this technique, a customer gets redirected to an alternative mode of communication. This includes messaging, emails etc.
Mixing this concept with the thought of avoiding customer calls is not what call deflection means. It aims to increase the customer satisfaction ratio during rough times when there are not enough resources to meet customer demands.
The customer gets diverted to other mediums for support but no matter what medium he chooses, he always stands important. The CX can choose any preferred medium for support or else he can still continue to choose phone calls as per his needs.
Why should a business choose call deflection?
Nobody ever thought how badly a virus could ruin the entire structure of our economy and our day to day lives. This proves that every day is uncertain and situations like these might subside but can also reoccur.
The current situation has led to a substantial increase in the number of calls by stressed customers. Cx agents are receiving a horrifying surge of customer calls each day resulting in overly stressed situations. Situations that are tedious and hard to handle. This often results in painful customer interaction, angry callers and zero first-class solutions.
The call deflection technique has saved several businesses that were on the verge of providing almost negative experiences to their customers. It has proved extremely helpful for those set of customers who couldn't tolerate the disruption caused by the pandemic.
Conclusion:
While completely altering your customer service process overnight seems pretty hard, these intelligent solutions can minimize the damage. Right from providing a better customer experience to creating a customer-centric environment, the call deflection technique soothes everyday business interactions and help you provide a better customer experience. Great experience will indirectly lead to the fulfilment of business goals and get profits. So the choice is yours. Find the best customer call center for your business.
January 5, 2021
Categories: