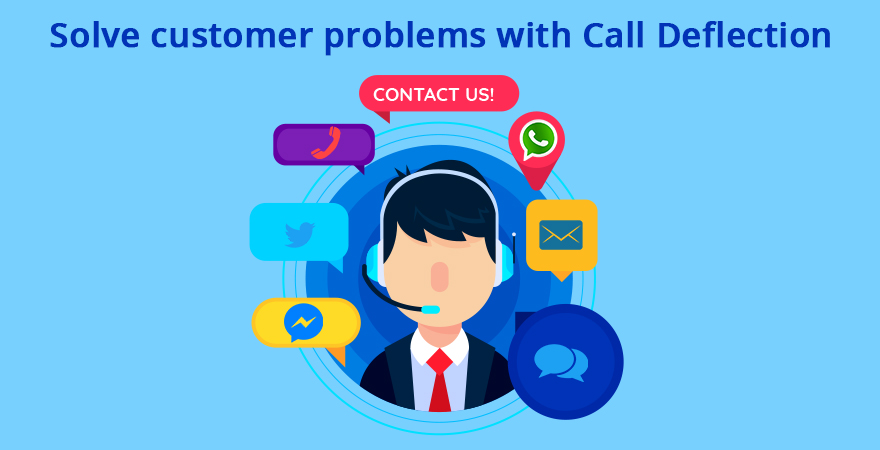 As we already discussed in the last post, Call deflection technique is a valuable customer-centric approach to offer the right help to your audience. Not to mix the concept of call forwarding or call dodging, call deflection is an ideal way to provide great customer experiences. Customers come to you for help and assistance and providing them with the right set of knowledge will build you a better brand image. Each customer and his call is time and attention. If a customer calls your CX service department & is unable to find exact answers, he will probably get irritated or never choose you again.
A customer gets dissatisfied because of many reasons like:
Inability to answer calls due to huge call volume
Agents not able to provide support because of unavailability of resources
Long call hold time leading to stressed situations
Inability to provide first-hand solutions
Call forwarding for the right assistance and many more
So the logic behind using deflection strategies is to empower customers to choose alternate mediums and not stick to phone calls. These alternate mediums include use of social media, sending emails, use website chatbots, Augmented reality and other user-friendly channels. All these lead to an enhanced user experience with great customer satisfaction ratio.
This blog will discuss the benefits that businesses can have while using the right call deflection technique. So let's get into some details.
Advantages of using call deflection technique:
Now let your customers get the solution to their problems without calling your CX Service department. The correct call deflection technique will enable your target audience to find what they want in the way they prefer.
Error Free Website:
So according to the statistics, 72% of the customers prefer scrolling a website for their answers. No matter what the problem is, they will only make a call when the website doesn't have a proper solution to their query. So in order to empower your customers to use self-service options, make sure your website is well updated. A fully updated website will offer the required help to your customers without any hassle.
Less stressed agents with the right call deflection technique:
So this point targets two main topics. One is how can you decrease the stress of your agents' overtime and how can you boost their productivity and service levels?
So your call deflection strategy will make sure that customers call less on your telephone line and solve their problems with self-help options. This will decrease the workload of your agents. Moreover, this will allow your agents to help customers with complex queries and problems. They wouldn't have to answer to the monotonous queries of each customer. Reason being, each solution gets updated on all platforms. In other words, you get great customer satisfaction ratio, no employee burnout & no need to hire and train more employees.
When a customer chooses alternate mediums, your CX service department has ample time to give their undivided attention to other customers. Indirect win-win for both.
Offer great customer service via phone calls
So not every customer is well-equipped to use the self-service options. It can completely depend on how the situation is. For customers who call, understanding the route cause of the problem & then offering support is a must. This will ensure that each customer gets satisfied. Moreover, the same route cause gets classified on your self-help platforms.

Allow customers to switch from IVR to digital with a conventional call deflection technique
So it's evident enough that a well-crafted call deflection technique helps your audience to get solutions at a faster pace. Not just this, this strategy sets you apart from your competitors too. On the other hand, with the list of endless benefits, your customers will only choose you again and again for great customer service. Make sure you step up in the game and provide world-class customer experience to your customers which will drive their loyalty always. Want our help, then give us a call now.
January 7, 2021
Categories: