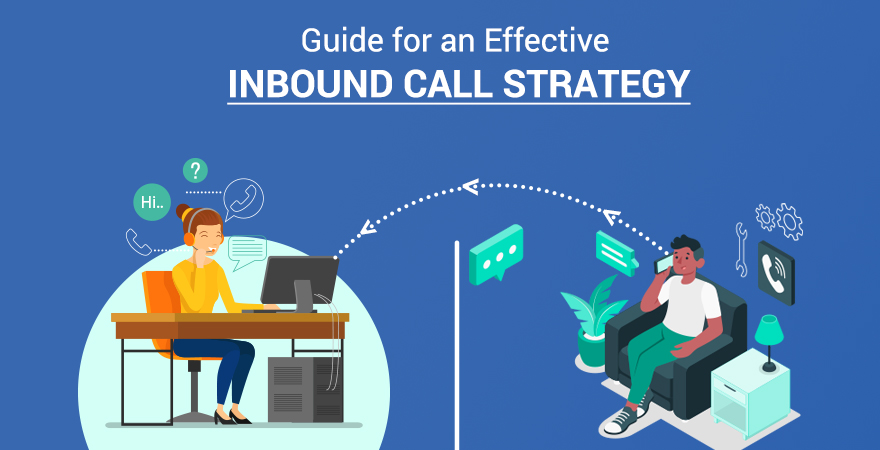 The quality of services you offer to your customers goes a long way in building an image of your business regardless of the size of your firm.
It doesn't matter whether you're a small organization solving customer inquiries or a large enterprise selling products and services, the customers will connect with you for assistance and as a capable business, you should be able to provide support to them whenever they need it.
In this blog, you'll learn about different ways of implementing powerful inbound call strategy for your business
Ways to Implement an Effective Inbound Call
Strategy

1. Hold the voice channel for the individuals who need it most
For knowing your customers, it is important to have direct interaction with them but the challenge here is that every phone call costs the company money so it is crucial to decide where you are going to place your phone number.
The main focus is to make sure that your salespeople are talking to the right customers. Mentioning your number on the website's homepage can result in overburdening calls from the callers who may not even have a real issue.
So, try putting the number at the end of your product and solution pages.
2. Keep your promise to be accessible
After making sure that you're only getting valuable phone calls, make sure that there's somebody qualified on your end to answer customer calls so that they don't go to voice messages and get answered by the right person.
Also Read:- Customer Satisfaction: Improve it with Modern Technology
3. Offer self-assistance choices
Self-service options enable the customers to solve their queries themselves without needing an agent. Many queries related to knowing the status of their purchase or how to initiate the exchange of the order can be solved without live help.
4. Figure out your inbound call arrangement
Inbound calling arrangement varies according to the needs of your business. In today's competitive world, it's significant for businesses to upgrade their resources to provide customer service from any part of the world and at any time.
Using a multi-channel contact focus solution can help you stay connected with your customers via email, webchats, and online media messaging and calling which further enhances the inbound call center strategy.
5. Merging CRM with your phone system
One way to enhance the performance of your sales staff is to provide them with access to CRM data while assisting the customers on the call.
Whenever a call is received, agents should be able to make use of CRM data. Computer Telephony Integration can be used to link your telephone system to your PC which provides the agents with access to customer data and they can get to know whose call is approaching before they pick up.
This saves a lot of time for the agents as they get access to the data about the products which were previously purchased by the customers. Also, it will be easier for the agent to update customer data which will ultimately enhance
How can we help you with Inbound calls Strategy?

Girnar care offers expert inbound contact center solutions that are flexible and offer seamless customer experience.
No matter what your budget is, our team offers the highest quality customer services with experienced staff and the right use of technology to assist our customers before and after the purchase. 
To know more about our services, get in touch with us today!