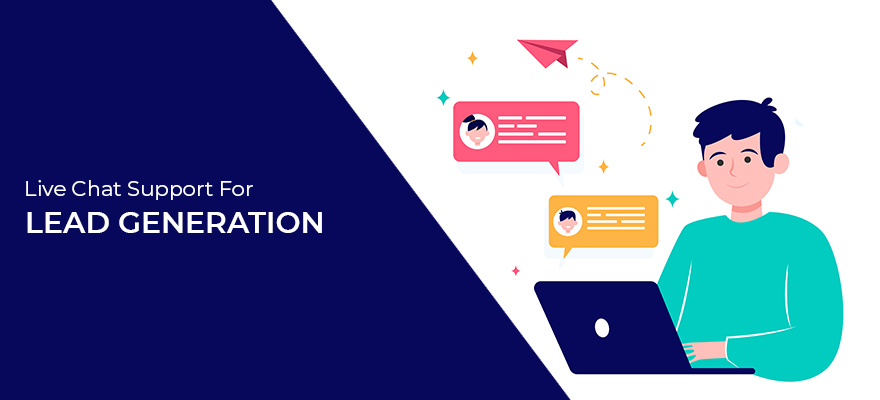 In an online competitive age, surviving is hard as lifting a rock for building an empire.
And above all, it's arduous to capture a lead i.e. the potential customer.
The sales and marketing professional use an array of techniques to generate leads for the company. Out of many, digital marketing is one of the foremost and common practices of lead generation.
Since digital marketing practices work upon the contingencies of Google's Algorithm, it is pretty much a comprehensive method to achieve relevant results.
However, digital marketing is still an undefeated tactic for businesses to compete with other brands and help generate leads.
If I ask you that other than digital marketing is there any different medium to generate leads. What would you suggest to me?
I believe that live chatbots or live chat support solutions could be a way for lead generation. How?
According to the study done by ICMI, a live chat system can produce more than a 40% increase in the overall website conversion rate.
Additionally, Live chat has the highest satisfaction levels for any customer service channel. Day by day, the chat adoption rate has risen from 38% in 2009 to 58% in 2014 and 64% in 2019 and will grow exponentially.
Features of Live Chat Support for Lead Generation
Through live chat support, you can readily greet customers who visit your site, instantly deliver a sense of urgency messages, and be available to help whenever they need you.
These are the common fundamental features of live chat. However, it provides you with many features to take advantage of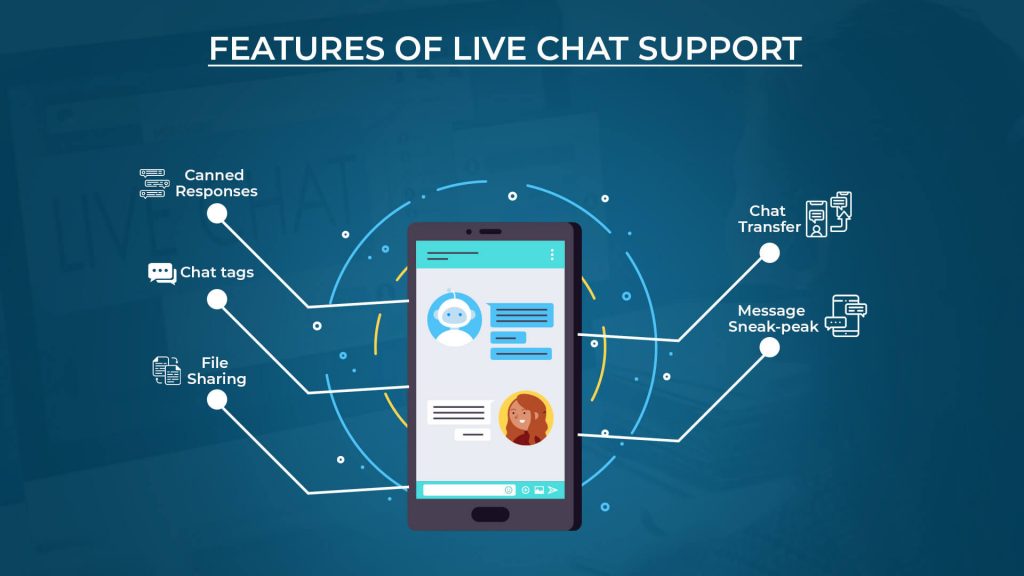 Canned responses
Chat tags
File sharing
Chat transfer
Message sneak-peak
Now every website integrates with AI-accredited live chatbots to enhance customer support and customer satisfaction.
You cannot imagine how critical can live chat support functions.
Many just believe that this is the channel for communication to resolve customer queries.
With no jokes! The majority of them are using live chat for marketing purposes, including lead capture on their website.
Application of Chat Support System
Since chat services act exactly like a receptionist to help visitors feel comfortable at every moment of their online journey. It is mostly utilized in websites and mobile applications.
Although, you may have seen various chat support services when you visit an eCommerce website or any other website.
Eventually, "How may I help you, Today" pre-chat services is the most common kind of greeting message you receive at a glance.
Other than websites and apps, chat support is also found in the form of VR experiences. Near in the future, may we see such technology in offices and smart homes too.
Also Read: 8 Effective Benefits of Live Chat Support Solution 2021
5 Winning Live Chat Strategy For Greater Lead Generation
When we think about live chat support for lead generation, we pretend ourselves smarter and disciplined. How you help customers engross the sins of art and science.
And the live chat support has both the quality. It gives you the option to customize chat services as per marketing agendas. Also, it offers analytics, customer history, and so on to facilitate a strategy for the next step.
Here are 5 ways to use live chat support to generate leads via a mix of automated and human-operated tools.
1. Welcome website visitors with a chatbot greet message

Greeting messages act as a friend or as a neighbor. Chatbot welcome scripts generally include a cohesive greeting, some basic information about the site or page when a visitor lands, and then different target messages are offered to start a conversation.
Generally, the most common chat support formats are highlighted features and visual menus.
Possible menu information to add:
Blog link
Opt-in to subscription updates
Links to product or service
More info on pricing
Links to landing pages
2. Catch more leads with Omnichannel chatbots
Today omnichannel chatbots rule at the entire surface. Even big tech giants such as Meta (Facebook) and its Facebook messenger app are using omnichannel chat services.
When you opt for Omnichannel chatbots you enable chat support with AI and ML intelligence to handle customers everywhere whether they go on desktop, mobile app, etc.
Benefits to having an omnichannel chatbot on your website include:
Frequent conversation and tracking of customer history
Send follow-up messages at the right time
Help you to do remarketing
3. Generate leads 24/7 with live chat support automation
A human can't work 24 hours a day, but your chatbots can. Especially in the case of eCommerce brands, customer needs instant support for their products. Hence, 24/7 standby support is important.
When you use automated chatbots you save time and effort to listen to your customer's queries. Additionally, you can use a live chat assistant for lead procurement by illustrating automation tools when offline.
4. Use a Pre-Chat Survey To Know Customer Perception
Pre-chat surveys consequently pose your visitors a few inquiries before the discussion begins. If you don't as of now have the client information, use your survey campaign to request a name, email address, or potentially phone number.
Regardless of how the discussion closes, you already have your visitor's contact subtleties and you can utilize them later for showcasing and deals purposes.
5. Use conversation routing, lead alerts, and live chat takeover
Missing a lead through live chat support means you still need improvement.
Think of lead alerts software that notifies you about each conversation at the right time. Moreover, lead alerts tools also work on other mediums of channels such as email and social media.
So if your live chat support isn't powerful or versatile, lead notifications make it easier.
Final Thought: Chat Support for Lead Generation
In conclusion, I would only say that you should integrate live chat support on your website. And if you haven't done it yet, do it quickly.
Need any help? We offer personalised chat support services to our clients with exclusive advantages like –
Easy Customization for UI and Web theme
Pre Chat Questionnaire and Chatbot AI
We also provide multi-lingual chat support to assist consumers with languages they are comfortable in.
November 2, 2021
Categories: