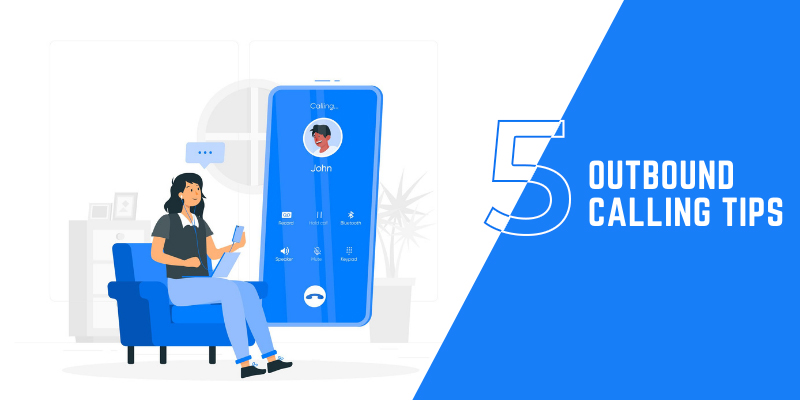 Telling you a secret! Listen carefully…Calling takes art.

How you talk to people during phone calls conversations depends on your art of words. Your words should be sound pleasant instead of coarse.

If you're involved in the outbound calling process, contingencies are generating leads for the company. And that you could achieve by bringing good communication skills and by practicing some outbound calling tips.

By the way, outbound calls are the first form of interaction which means you probably don't know much about their preferences, choices, and likes as well.

Thus, it becomes hard to bring sales in first contact resolution.

Hey! Wait that doesn't mean it's impossible.

With a successful outbound calls strategy, you could bring productivity to your outbound process. Start with making a to-do list that helps you to know your customers' likes and dislikes. Even you could skip the wrong things before making calls to them. 

Here are 5 tips for outbound calls that will assist your outbound calling campaign with impressive results.
1) Get a List of Caller's Name

When you have a list of the caller's name in hand the outbound calling becomes easier. You can quickly make calls to them and if someone shows busy, you can quickly switch to another caller.

It saves you from blindly making calls and building wrong expectations of lead generation. Additionally, you have a filtered list that means filtered leads in your hands, you just need to make calls and convert them into your customers.
2) Research Before Calling

Many sales representatives forget this step and see as. But, knowing your customers is something important than greeting them. So, do in-depth research about the prospect.

You need to know what their needs are. When you do well research you will be able to know their ins and outs and help you to present your case better and convince them to go for your product.

Consider this example, you have an insurance agency so your objective should be to contact individuals who truly need protection and who can bear the cost of it as well. In case you contact a student who is still dependent on his parents to buy car insurance then that work is purposeless. Yet, you have done your examination admirably and you contact the understudy's parent then you may land a customer for your organization.
3) Talk In-Gentle Voice & Stay Focused

Call center agents are well known for their communication aptitudes. You can certainly find differences between an agent and a normal representative.

You would agree that call center agents stay focused and ask straightforward questions.

"Hello, I am XYZ calling from an insurance company. I hope you are doing fine. I am calling to discuss a proposition…"

The above short script is an outbound calling best practice that will always keep you focused on your objective.
4) Reframe Outbound Calling Hours

How would you feel if your grocery storekeeper calls you in the middle of the night to tell you about new stock? And tries to sell it to you. Chances are you will lose your calm and might even decide to block their contact.

Avoid calling during weird hours of the day, look out for the right set of outbound calling hours as per their preference of time. The best bet to put outbound calls is around noon because everyone has settled into their work for the day and can easily spare a few minutes on a call.
5) Take Help of Modern and Right Set of Technology

Bringing technology into the process help agents to perform better and increase productivity. In fact, most of the calling functions can be easily managed through the right set of technology. It can help you with churning the manual tasks of dialing numbers and checking on missed calls, receiving calls, and so on.

You can think of outbound calling solutions that offer a wide range of technical assistance to agents. They can use it for handling verification calls, follow-up calls, market survey calls, etc. 
Also Read: Advantages of Outbound Call Center Services
Final Words on Outbound Calling Tips

Utilizing these arrangements will make your outbound calling procedure more effective. Your representatives will be able to do more significant assignments. The more efferent the work interaction will be the more your outbound calling technique will succeed.

I hope you find this blog useful. Do share your thoughts below.

November 23, 2021
Categories: