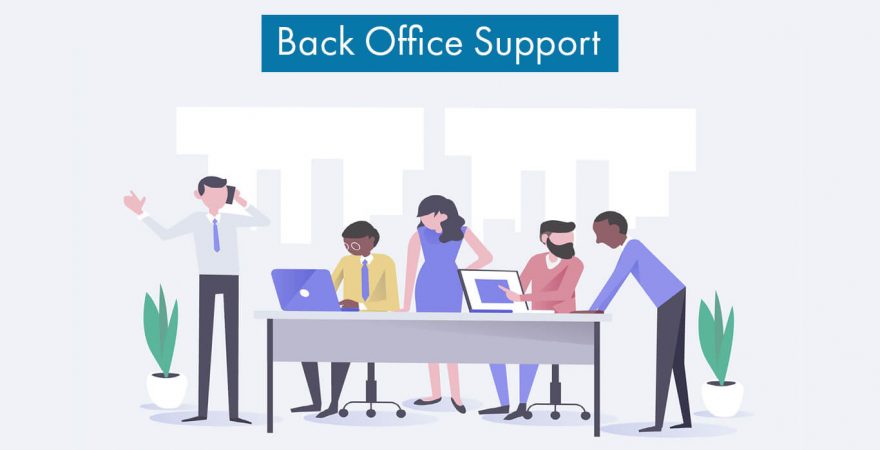 Many businesses overlook the need for back office support services as the administrative tasks don't seem like much of a work in the beginning, but as your business grows the need to focus on the core tasks of the organization multiplies.
At that point in time, you can't afford to waste your time on back office activities. What you exactly need is a way to make sure that both your core tasks and back office activities go hand in hand.
How about outsourcing a BPO to handle all your back office support activities like data entry, customer care, sales and the rest?
This way you can easily prioritize the tasks which are important and won't have to worry about the backend activities as they will be handled by the agents you outsource.
Sounds perfect, isn't it?
Well, then let's start with discussing the advantages of back office support for your business
Top 5 reasons to choose back office support
Minimizing costs
Hiring new staff for your business can be a daunting task. Not only is it time-consuming but it also requires your undivided attention that means you can't focus on the core tasks which really need to be dealt with.
With outsourcing back office support, you can save some of the costs that you would have spent on hiring new employees.
Plus the agents of outsourcing companies are skilled at handling the tasks efficiently. Thus, your staff members can easily target the core tasks.
Restore your budget: Utilize your cost savings 
Once you outsource a BPO for back office support, you'll have free time to utilize your cost savings in the projects or activities that were never considered before.
But now when you have the time and resources to achieve your business targets, there'll be no better time than this!
Prioritize crucial tasks 
How often do your team members fail to pay attention to the core tasks because they find it hard to manage both back office and core tasks together?
With back office support, you can sit back and relax as all of your back office work will be managed by trusted professionals.
Also, you and your team will now have more time to invest in the crucial aspects of the organization.
Get quality support by professionals 
Any business that would consider outsourcing back office support would want nothing but the best quality of services.
With the help of trained professionals, you can make sure that your back office functions are in the right hands so that your organization can provide the highest quality customer services.
Access to technology 
Most of your back office functions can be automated with the help of software. But buying the software can be way too expensive for your business.
Outsourcing can be an efficient solution to this problem as it comes with manpower as well as the automation software required for your back office activities.
That means you get to cut some expenses and you can get access to the latest technology.
Worth it I guess!
Also Read:- Benefits of Live Chat Support Solution

Final thoughts
By outsourcing back-office tasks to a well-known BPO, you can get rid of the unnecessary stress caused by not being able to manage back office work and core tasks altogether. 
If you're still waiting for the right time, it is now.
At Girnar care we have well-trained staff who can effectively handle all of your back office activities.
Get in touch with us to know how we can help your customer base!
June 18, 2021
Categories: