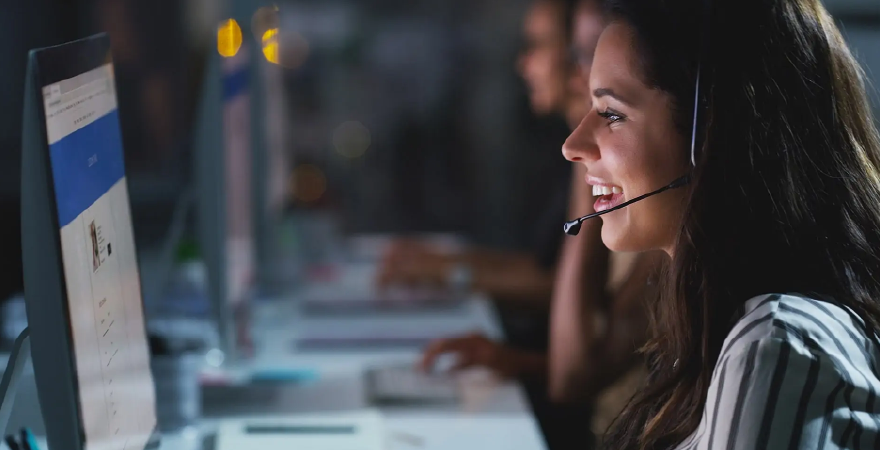 Since we all are undergoing immense changes due to the coronavirus pandemic, we are adopting new ways and techniques to survive this new normal. From serving customers timely to making profits during these uncertain times, enterprises are finding innovative and safe ways to maintain business continuity. Above all, the main challenge everyone is facing is that we are unable to communicate with each other. These rough time have certainly taught us how important technology is and how effectively can we use it to interact. This topic will speak about how enterprises should make use of newer technology to outshine themselves.
Let's understand how virtual call answering services can tackle your customer communication issue.
Why are we unable to communicate?
Since the new normal demands everyone to maintain social distancing and take necessary steps, remote working is the escape route. COVID has locked us inside our homes due to which, everyone has to work from home. Since everything is closed or at a halt, Many customers are unable to find solutions for his issues. An issue can of anything, ranging from understanding precautionary steps of action from a business or enquiring about their product.
Let's understand the reasons why communication is such a big hurdle and why enterprises are not able to deliver timely solutions to customers.
The main issue that enterprises are facing is Extreme hype in the number of Incoming calls. Because of increased call value, enterprises are unable to meet customers expectation, due to which, they often lose out on valuable customers.
If we speak about other reasons, customers are panicking considering the current situation. They are anxious and stressed and in the urgent needs of resolutions. On the other hand, Enterprises are facing money crunch, resource crises, difficulty in delivering service and a lot of other issues.
Even if the customer tries to communicate to the business, he is unable to fetch answers resulting in more stress.
This article will speak of ways of how enterprises can use virtual call answering services to prevent communication problems. This article will also pen out many advantages of investing in good virtual phone answering service.
Understanding Virtual Call Answering Services:
Virtual call answering service is smart service. This service assists a business to outsource its incoming call needs. Outsourcing here means, that a business needs someone to answer to their incoming queries by its customers on their behalf. Incoming questions can range from answering normal calls to solving a complete tedious query and offering entire solutions to your customers.
Businesses facing extreme quality resource crunch can benefit from this unique offering and offer meticulous solutions to their customers.

How does Virtual Call Answering Service work?
A business can completely automate how its communication system works with the help of a virtual call answering service. This service is also referred to as a Virtual Receptionist by many businesses.
Customers call your virtual number to inquire about their problems. These calls get transferred to an IVR (Interactive Voice Response) System. IVR is a computer-generated voice that you hear when you call a customer call service number. Example: "Please press 1 for English and 2 for Hindi", "Please press 2 for Account Information and 3 for Current offers".
The IVR system helps the customer to navigate to a range of different questions which can solve their query automatically. Cases where the customer still is unable to fetch answers, his call gets transferred to a professional agent.
Concluding to which, Virtual Call Answering Services are a great way to provide timely and professional responses to your customers. A Virtual Receptionist will offer you calmness to handle the more important tasks by yourself by handing over the other to professionals. This service will be helpful in the times of a pandemic and beyond it always.
Below we will explore reasons why do you need a good virtual call answering service and what benefits can you reap from it:
1. Personalisation:
These rough times are hard on everyone and so on your customers. The need of the hour for them is to get heard and simultaneously get valuable solutions. According to statistics, the most preferred communication tool is phone and customers often discuss the details before purchasing. A customer will actively communicate with your agent and take surety if he is making the right purchase decision.
Your customers want somebody to listen to them and offer them reliability and assurance amid crises. A good agent will interact and show empathy while providing a way out of the problem.
As a professional agent can solve the customer's dilemma, he can prove to be an excellent source for your customer satisfaction also. A virtual call answering service will lead your customers to professional agents who can solve their issues and offer meaningful solutions in no time.
2. Managing Resource Crunch
Offering customer satisfaction through Quality resources can certainly increase your customer satisfaction ratio. The challenging situation has already brought in a lot of other important tasks to look upon. A virtual receptionist helps you to free your time up and concentrate on the other important things while leaving communication on it. Rather than hiring resources during these times and then investing your time in training them, these services are a great option to choose.
3. Capture Every query
Not just incoming customer calls, a virtual call answering service aka virtual receptionist can also help you to deal with your all other platforms too. Emails, Call forwarding, Appointment setting, Bill Payments, Customer service, Social media, and many more platforms can be handled easily. It basically frees up your time and directs you to the much important goals.
4. Easy Tracking
Everything gets tracked. From the number of calls answered to the number of calls resolved, every data will be available on the tips of your hand. With easy reports, you can track how beneficial these call answering services have been to you and your customers. Also, an added advantage is that everything is available on the cloud. So it can easily accessible and available anywhere and anytime.
Virtual Call Answering at work
Investing in Call Answering services have been very much advantageous for many businesses amid or beyond the crises. As you cannot catch the virus on the phone, virtual receptionists are a great way to work.
Girnar Care provides a range of other cloud telephony services including Smart Virtual Call Answering Services. With an experienced bunch of professionals like the folks working with Girnar Care, you can keep your business doors closed but run operations like as usual.
Want to know more, give us a call and learn how you can improve your business efficiency and customer communication.

Since a majority of companies are working from home, connectivity issues are a big-time issue. Virtual Call Answering Service
October 6, 2020
Categories: