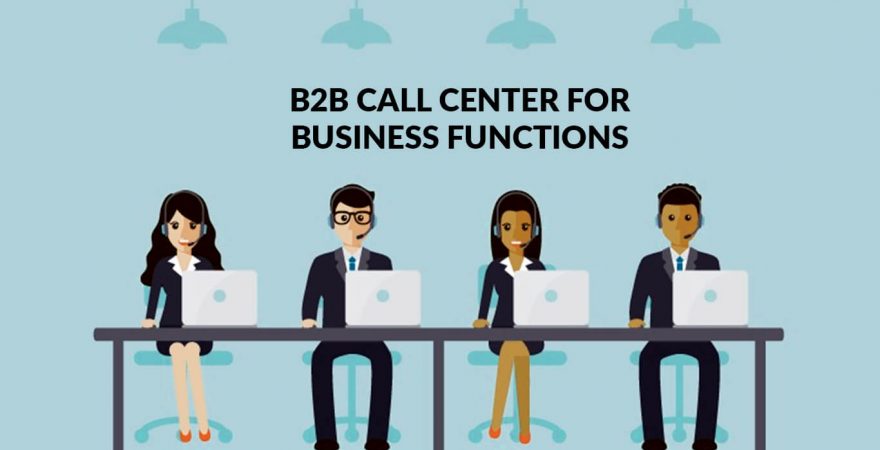 The nature of the B2B-Industries/companies indeed is different from the out ones in the market.
There is a whole shift in the internal work strategies and even in the ambition behind the establishment of the business.
Generally, B2B stands for "Business to Business." The one who engages in such type of trade(s) creates products and services geared toward other businesses.
For example, B2B marketing firms, SaaS companies, and especially the business supply companies.
These B2B companies have an entirely different target audience. Therefore, to capture them needs a distinctive communicative strategy.
This is where B2B communication partners also known as B2B call centers sometimes abbreviate as Outbound call center comes into the picture.
Basically, B2B call centers provide outbound call center services that streamline two major aspects.
Pre-Sales Requirement
Lead Generation
Continue reading to know about how B2B call centers achieve these objectives.
How Does a B2B Call Center Function?
A B2B call center partners handle multiple duties that an ideal company finds tedious or difficult to handle. Specifically, these B2B communicative partners have been involved in leverage the power of the marketing research process, pre-sales qualifications, inbound/outbound processes, sales lead generation, data entry, evaluating reporting, and lots more.
Additionally, the B2B call center can provide complete outsourced solutions to those businesses who want to manage customer interactions, queries, etc in an independent environment. In this way, B2B call center business function helps them to yield customer expectations and provide exact solutions.
Also Read: Tips to Create Successful Outbound Calls Strategy
What can a B2B Call Center do for a Company?
A B2B communications partner deals directly with the customers on behalf of business partners. Since the consumers become more erudite. Sustaining their appetite is heavenly important.
And that's exactly what outbound providers do! Learn how a B2B call center works for a company?
Above all, It starts with capturing new leads and ends with closing those.
Indeed, for a general marketing representative person, it is hard to capture leads for the companies, even if they do, it gets harder to manage those on time.
While on the other hand, communications partners are experienced in this field, they will consult with their clients and gather data. Further, they organize data in a meaningful manner and interpreting those data to generate desire leads for the company.
During this time they may communicate to hundreds or even thousands and qualify them in the process. The communication partners use sophisticated customer relationship management (CRM) technology to record a lead's concerns and their needs.
Further, the data is classified into subjects of needs, those contacts showed interest and can be converted into sales, transferred to the sales team department, giving them the edge they need to close the sale.
They also secure current client relationships with frequent check-ins and inquiries related to service. In the event, if issues arise with a current client, the communication partners forward the issues to the company's staff for better resolution.
You can say a B2B call center acts as a buffer for a business.
I've illustrated some importance of B2B call centers which help you know them better.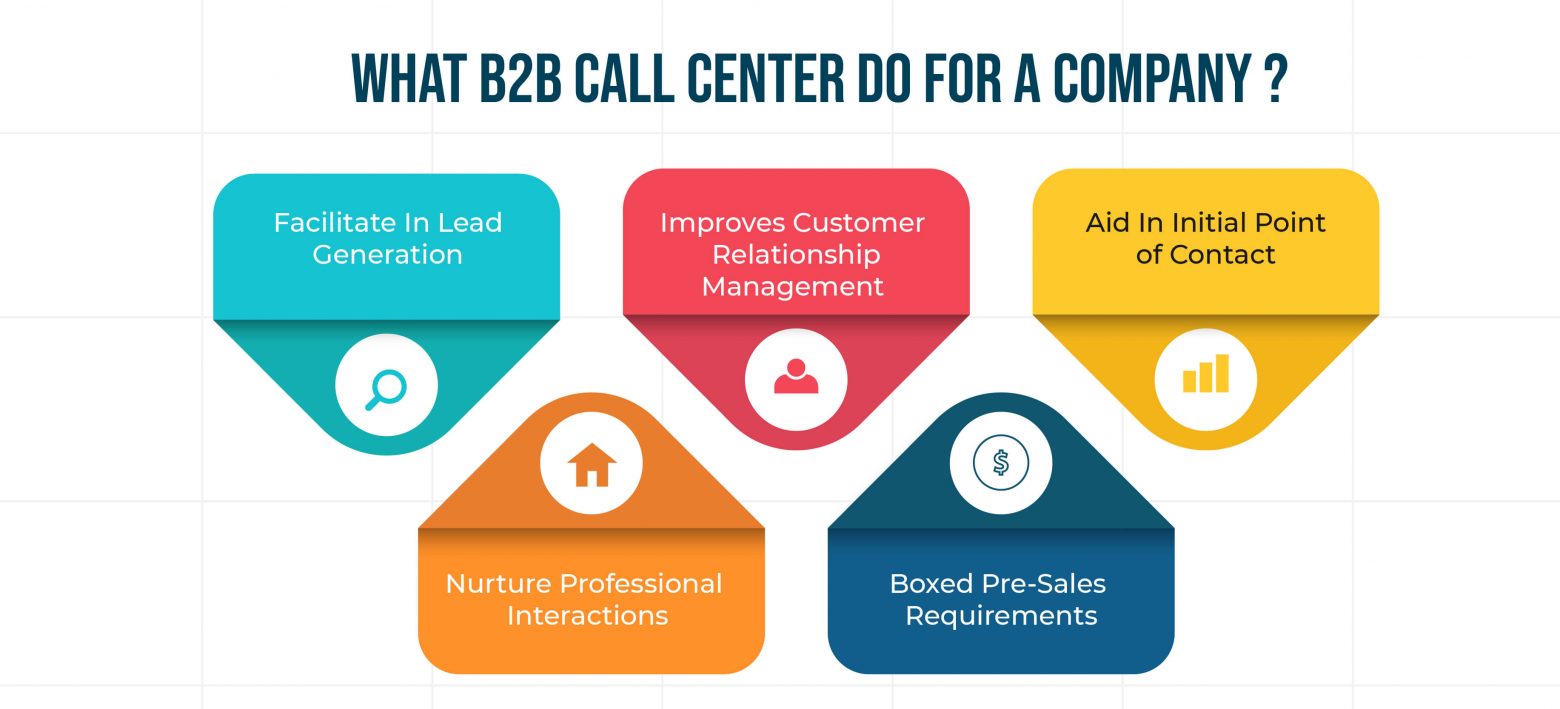 1. Facilitate In Lead Generation
In a B2B call center, lead generation may be seen from a different perspective.
Because the process is using the telephone. Telephone lead generation is an effective way to collect additional information, to know customer initial point of contact, get call center leads, and quickly provide the data to your sales team.
The methods utilize telephony channels, autodialer systems, and other conventional methods. Aside from these, there are some effective ways to create call center leads as mentioned:
Encourage personalized selling
Incorporate proper training and coaching
Implying right call center leads metrics
Investing in the fresh calls list
Live monitoring to streamline leads
A B2B call center facilitates lead generation to all companies!
2. Improves Customer Relationship Management

Since most of the interactions happen over the telephone, the increase in recording of data and security upsurge. The call center agents use CRM (Customer Relationship Management) which is a software tool for Call Center Customer Relationship Management that stores record about customers, such as account information and contact history.
Here are some best call centers CRM software:
Freshsales
Nextiva
Zoho CRM
Agile CRM
3. Aid In Initial Point of Contact

Let's re-imagine the famous quote of John Wanamaker – "Customer Is King"
For early-age startups and fortunate businesses, it is important to serve customers as per customers' expectations.
In B2B Call Center, the experts know how crucial are their cold customers. Hence, they provide the initial point of contact for all of the company's clients while enriching their customer service experience and ensuring they receive a positive impression of the company.
4. Nurture Professional Interactions

At the point when you make the customer feel disappointed in your service, frequently, it reduces the impression and interactions level against that particular person and company. Nurturing interactions between agents and customers is important. Therefore, many think to outsource call centers for better communication and professional interactions.
5. Boxed Pre-Sales Requirements

Just as Pre-Planning, similarly, pre-sales refers to the activity carried out before a customer is acquired. It is somewhat similar to pre-marketing strategies that deal with research, validation, preparation, and lead nurturing, in advance.
The communications partners initiate cold calls to identify the potential customers for the company. Once the efforts have been qualified and nurtured. The pre-sales agents hand the customer off to the sales team to close the deal.
Benefits of Outsourcing B2B Call Center For Business

Hiring B2B call center specialists, the business unlocks the power of specialized agents and periodic reviews.
Firstly, A specialized agent took the matter of the event seriously and effectively to procure the subjects. They are trained and have a good command over communication which lets nurture interactions b/w the customer and agent.
Secondly, Periodic reviews act as an assessment that gives a picture of customer experience to both, agent and sales team. Periodic reviews help in gathering feedback and surveys. It ensures smooth processing of the b2b call center business functions.
Get Professional Outbound Call Solution
In conclusion, having the support of B2B communication partners reduces the pain of professional customer handling. In fact, they assist companies in bringing leads, resolve customer queries, supply data to the sales team, etc.
Girnar Care offers Outbound services that can help B2B clients to use new resources while keeping a check on the expenses. A glimpse of our outbound call services:
Verification Calling
Follow-up Calling
Market Survey Calling
Payment collection
Upselling and Cross-selling
Interested? Contact Us
October 12, 2021
Categories: